From 5$ MTTs to 109$ MTTs in 1 Year and Further Ahead
From 5$ MTTs to 109$ MTTs in 1 Year and Further Ahead
Who am I?
Hello my name is Joe, I'm 27 years old and come from Czech Republic. It's been 2 years since I started professionally playing online MTTs. The stable - Poker Detox - where I started (accepted for friend's recommendation without much data to prove I was decent) told me: 'Feel free to play up to 5$ tournaments', while new players could play up to 11$. Fair enough. All I knew at that point was pretty much how to exploit fish in casino's cash games on 0.5/1$ games. At that point I was also at university in Denmark studying Entrepreneurship so at the beginning my occupation was a student and a part-time poker player.
Why?
To become an Elite player! For me to do this, I believe it's time I decompress my thoughts on my journey so far, so that I can shape my path for the next chapter. I will post here regularly (2x a week) about my journey until now, my short term goals, my long term goals, my current game, mindset, lifestyle and habit developments that I believe will take me to the upper echelons of the poker world!
My goals:
Move up in stakes and crush 200$ games in daily schedule and 500$ - 1k$ games during the series
Reach 200k$ profit in one year from today
Upgrade my understanding of GTO concepts (yep, it's true until now I was going on with pretty much basic theory concepts and exploitative strategies only)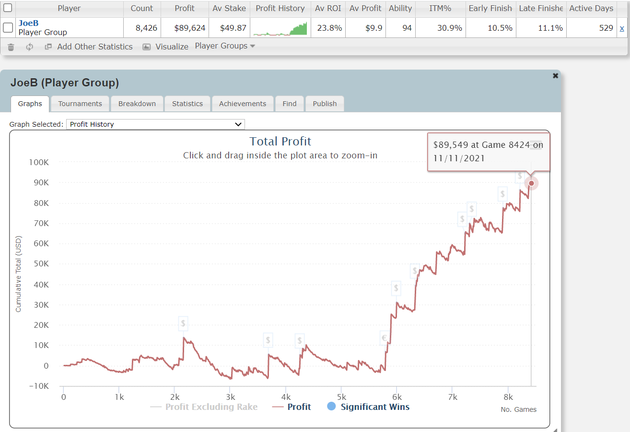 My graph for the last two years since I've started the journey
- First year - lot of ups and downs while moving up in stakes
- Second year getting consistent with my lifestyle, routine, study and also the $ results!
GL to everyone!