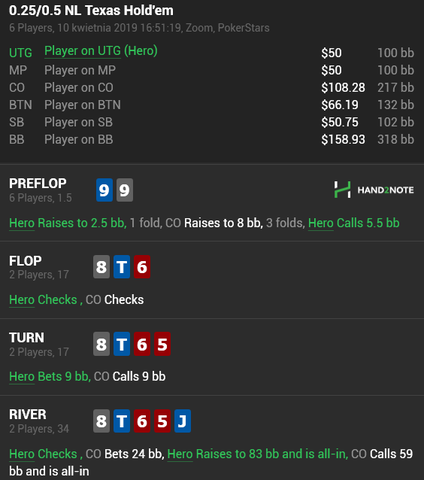 Vilain is unknown reg - after 150 hands playing 27/21 with 3bet 7,5%, probably more on passive side, certainly picking cbets more cautiously(3/7 on flop so far)
Preflop - close to bottom of my calling range there
Flop - check/check
Turn - Should I check or bet with this hand? I decided to bet as I have range advantage and I do need some protection against overcards.
River - I don't see any value in betting so I check and hope for showdown. Unfortunately villain bets and I can't see how I can bluffcatch this. Actually 99 is my worst hand on river(excluding AhQh which is always x/f) so I decided to turn it into bluff as I dont think he has there JJ often(probably he is cbetting there JJ way more often than AA cause it needs protection) and QQ+ should have hard time calling shove as I have many sets played that way.