My thinking process went on the same direction like yours.
I thought TT could be CB 1/3 or check because I think pool tend to overfold vs 2/3-3/4 and we could extract some value of PP (99/88) and FD that could be play XB if we check, and prevent bluff of his PP low.
This is the C3B Range that I put him:
And, this is our strategy OTT with our range and TT (Bet Size Option: 1/4, 1/3, 1/2, 3/4, PB, OB):
The next point to me is analyze the villain range vs different sizes:
Villain vs 3/4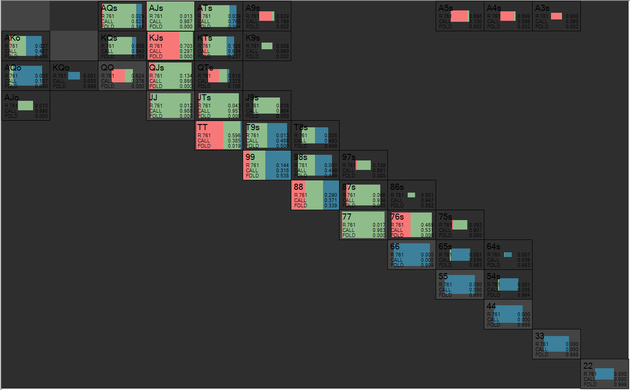 Villain vs 1/2
Villain vs 1/3
And, in my opinion, or at leats on my pool, people underraise vs 3/4 or 1/2, specially A5s-A3s and 99/88. And, overfold vs 3/4 or 1/2, specially AQdd/cc, ATdd/cc and some of this combos.
This should be our strategy vs pool with leaks:

What surprised me was that neither from a GTO point of view nor from an exploitative point of view does TT use 1/3 but 1/2 or 3/4. Even if I only give two bet size options (1/3 and 3/4), the solver prefers 3/4 for TT. And, analyzing different type of river, I think this is because we have more easy strategy's and, more or less, the same EV when we move AI OTR.
These are different River rounouts with his optimal move and Equity when go to showdown with TT:
Only loose significant equity when flush come, on the other runouts the strategy is more easy to play and the equity at showdown bigger or very similar.
So, I think TT should be play on 3/4 Range OTT because have value vs Villain Range, to simplify his River strategy and because don't loose much EV in general OTR vs 1/3 Range or 3/4 Range.
What do you think?
Obviously, I miss equity realization and exploitative lines vs different type's of villain, etc. The analyze could be much more better.
Oct. 8, 2021 | 11:38 a.m.