Hi all. This will be my last post in this blog and I will start a new blog: Goal: Leaving Microstakes this year.
I guess i reached my Goal of stopping playing very anxious at the tables.
Example from my first session on NL50. Was not able to load it up to weaktight...
Was against fish but obvious will get a lot of calls on river.
Poker Hand #HD366717620: Hold'em No Limit ($0.25/$0.5) - 2020/07/01 17:49:12
Table 'NLHBronze26' 6-max Seat #1 is the button
Seat 1: e78af5e7 ($51.14 in chips)
Seat 2: 7e2640e6 ($66.75 in chips)
Seat 3: Hero ($60.81 in chips)
Seat 4: db671f57 ($50.75 in chips)
Seat 5: f78b3dc2 ($51.6 in chips)
Seat 6: fb1f5a5d ($74.88 in chips)
7e2640e6: posts small blind $0.25
Hero: posts big blind $0.5
* HOLE CARDS
Dealt to e78af5e7
Dealt to 7e2640e6
Dealt to Hero [Ah Jc]
Dealt to db671f57
Dealt to f78b3dc2
Dealt to fb1f5a5d
db671f57: raises $0.75 to $1.25
f78b3dc2: folds
fb1f5a5d: folds
e78af5e7: calls $1.25
7e2640e6: folds
Hero: raises $6.25 to $7.5
db671f57: folds
e78af5e7: calls $6.25
FLOP [2c Qh 4d]
Hero: bets $5.5
e78af5e7: calls $5.5
TURN [2c Qh 4d] [Td]
Hero: bets $13.75
e78af5e7: calls $13.75
RIVER [2c Qh 4d Td] [7d]
Hero: bets $34.06 and is all-in
e78af5e7: folds
Uncalled bet ($34.06) returned to Hero
SHOWDOWN
Hero collected $55 from pot
SUMMARY *
Total pot $55
Board [2c Qh 4d Td 7d]
Seat 1: e78af5e7 (button) folded on the River
Seat 2: 7e2640e6 (small blind) folded before Flop
Seat 3: Hero (big blind) won ($55)
Seat 4: db671f57 folded before Flop
Seat 5: f78b3dc2 folded before Flop (didn't bet)
Seat 6: fb1f5a5d folded before Flop (didn't bet)
The last days I focused to be more aggressive preflop in the right spots and I guess it works out fine since most opponents play poorly against it.
I managed to beat NL25 in just over 20k Hands at GGpoker. The graph is without Rake so I actually won 1100 Dollar (300 Dollar Jackpot and 140 Dollar Deposit Bonus and some Dollars Fish Buffet Rakeback). As you will already figured out reading this it is massive rake here on the site. After I have completed the 600 Dollar Deposit Bonus I will ask myself if its worth it.
Since I am pretty busy in the moment in my job i was not able to play that much. I really gave everthing I had and right now I am pretty tired and really in need of some holiday or days off at least from normal job. I am also planning to reduce my working hours (perhaps in September if possible). Then I will decide if I try to enter PokerDetox. I really absorbed everthing i was able to get from their methology and of course there is still most stuff unknown cause of not being a member yet.
My bankroll is around 2.800 Dollar now and I am try to do at least one session of NL50 every day.
I am not studying a lot at the moment. Only watching Videos- but really trying to implement it at the tables. Meditation is also an area i should get involved more since i am oftern really nervous and the lack of good sleep is really terrible often times.
Perhaps I will do another challenge to review every 10bb+ Pot at least after every session this month. If this turns out to be too demanding I will analyse 15bb+ Pots.
Thx a lot to my coach: without your help I would perhaps still be grinding NL5 SNAP and be afraid of NL10 SNAP. You are the best.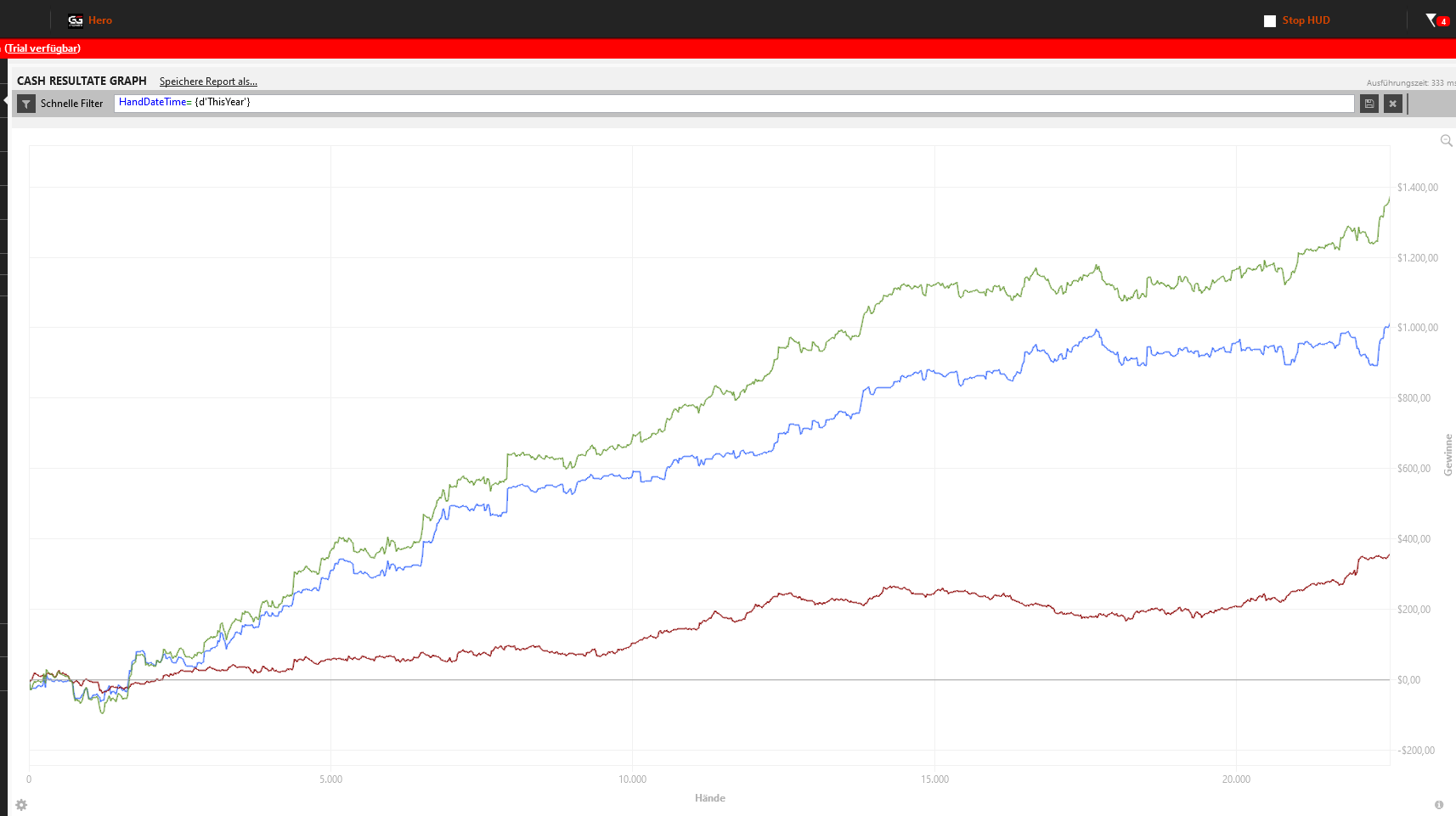 Winrate has been in fact 15/bb without Rake:


July 3, 2020 | 9:15 a.m.