PrankCallRiver
442 points
16:13 Do you think it would be a mistake to play 4bet/fold vs this large 3bet on table 1 w A4s? I've seen some preflop simulations in higher rake environment where against larger 3bet sizes OOP playing close to 4bet or fold.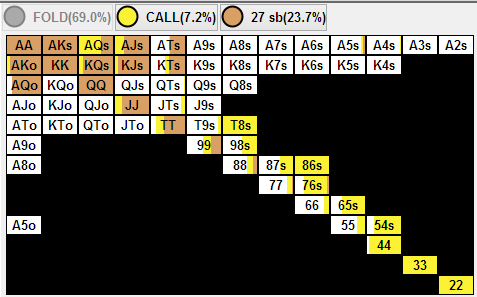 These are SS's I have from preflop solver, HJ play vs BTN 3bet, approximately 200NL rake, sizing scheme: HJ RFI 2.5bb, BTN 3bet 8.5bb. Lowest PP's and bunch of suited connectors are opening w low freq. 5-10%, so I guess EV of call improves, so you see them calling quite a bit. It does seem quite crazy to fold nearly 70% to 3bet, but I guess solver compensating that with very high reraise freq? Do you think these ranges are reasonable?
BTN 3bet range

Oct. 3, 2020 | 1:57 p.m.