Bit harder of a week, I have been fighting a bit of the flu. Volume was down, did little to no reviews, and actually had to bail on the Skype group this week. Also was running pretty bad most of the week, which really started to make it difficult to play my A game. I did very poorly with my pre flop game, and terrible on river play. Part of the problem was adding too many tables. I was trying to increase my hands an hour since my hours where down. This really hurt my win rate, and attitude.
Also there was a few times that I cheated and looked at my results after my sessions. First time was a terrible session where it felt like I did not win any of the 3b or 4b pots. I was actually worried that my tilt breaker was not set up properly since I was sure that my session was worse then -8bis. However after looking I was at -7.5bis. Not a huge victory but a small one none the less.
The next time was after the start of my Sunday. I was hotter then the sun, pretty sure that I won every pot over 200bbs, and had to see where I was. I was at about +13bis for the hour and it felt nice to actually get moving up in the right direction again after a difficult week.
Any how here is the year to date graph. I am still looking like I should be at 100plo for February. Also next week going to get back to playing no more then eight tables and try to get back into more A game poker.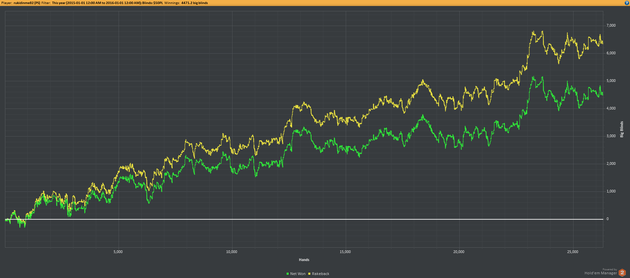 Jan. 21, 2015 | 3:47 a.m.