frontdoorbackdoor
231 points
Thoughts on poker and more
Just posting an update as its been several months. I started this year trying to get back into the swing of poker after having a some time off. This year has been busy – I was due to be getting married this month but the wedding is delayed due to coronavirus and I work in mental health, which has been increasingly busy recently. I've been trying to keep to a routine, going for runs and eating healthier which has been even more important.
Poker has been going pretty well. Disregarding results, I've been happy with my work ethic and have been building in regular study as well as days off. I've also started taking last few days off each month to have a mental break which I think has helped reduce burnout. I don't want to speak too soon, but I'm feeling like I'm getting a bit closer to being more balanced with regards to life. I've thought a lot about where I want to be in 1 year, 5 years and 10 years from now and family life and work is always going to take priority there. That's not to say though that I want to start splashing around at the tables and I've always enjoyed the challenges in poker and the way its taught me to think about situations logically.
I'm still setting myself goals, but perhaps not as ambitious as before and I don't want to get hung up on putting in x amount of hands or making y amount of money. For me, the challenge is enough and getting better and playing higher would be a real achievement.
No post would be complete without a graph and this is the year to date. Most of the volume played at 25z.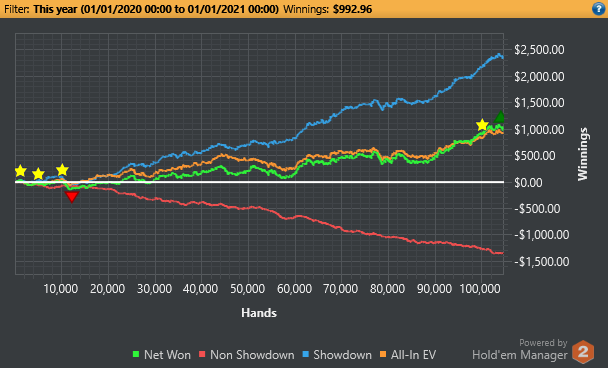 Thanks and GL
June 29, 2020 | 8:53 p.m.