I've certainly had an inauspicious start to "keeping up with the blog." That said, I finally will make another post here.
What have I been doing? A little bit of everything. Keeping up my full-time job, spending time with my family (and cats!), playing some poker, and studying some poker. In terms of playing, I've actually been playing a bit online (which is very strange for me). I haven't been able to put in too much volume because of all those other things I described, but for those of you who like graphs, I can provide one.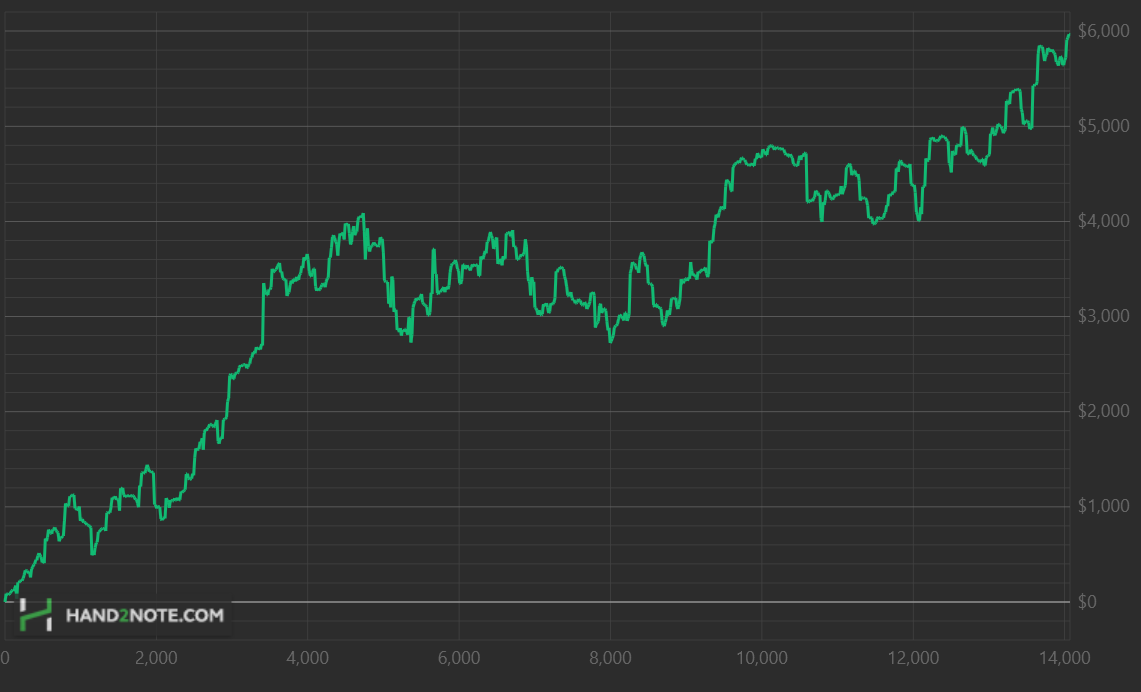 All the volume there is 200NL at ignition (mostly zone, some regular tables) since a little before Christmas.
Of course, that graph presents me in a pretty positive light. I can tell you that I have been losing some money at other non-NL games in the past few weeks (bleh).
That said, I think "losing" at other games has actually been helping me a lot. I haven't put a lot of time into memorizing pio sims and become a gto-bot, which I think has been for the better. Instead, I've been thinking, and I mean actually thinking! It's something it's very easy to get away with not doing when you're watching videos on rio (sorry rio!) or covering your ears and blindly memorizing pio sims.
There is a (somewhat) famous quote from Bruce Lee that goes something like this:
I fear not the man who has practiced 10,000 kicks once, but I fear the man who has practiced one kick 10,000 times.
Now, I think there is some truth to that and Bruce Lee is right, but I'd much rather fight the man that has practiced 1 kick 10,000 times than the man that has practiced 10 kicks 1,000 times each or the man that has practiced 5 kicks 2,000 times each.
Variation is good for our brains and we learn to understand a lot more when we study and practice similar things to what we want to master. So, I've been taking that approach.
I've been doing two things in my poker studies recently
practice!


this is insanely valuable (thanks Elliot Roe!). Instead of just constantly trying to acquire new knowledge, I'm practicing with what I have. I'm practicing putting myself in situations and combo counting. I'm practicing counting about how many value bets I have so how many bluffs do I need, then approximating where in my range I should be bluffing. I'm practicing determining how many bluffs my opponent needs to make my call good (and usually learning they don't have that many, but sometimes learning they have way more...).

study and practice different games!


I've been studying and practicing a bunch of different poker variants. Not just nl and plo but lots of wacky games. It's given me substantially more practice ranging opponents, and also just taught me to really think about what I am accomplishing at all times at the poker table. What am I trying to accomplish with a raise, or a call, or a fold. Is that good for my range? My hand?
Well, to anyone out there who actually read this, thanks for sticking out through a serious lull in posts to get started. I'll try to post more frequently going forward (my girlfriend bought me a mechanical keyboard and it's a hoot to type on it!). My next post will probably be less wordy. Maybe it'll have an actual hand in it or something. Only time will tell.
Jan. 28, 2020 | 5:32 a.m.