From MTT to Zoom! My journey from Nl 10 to Nl 1000 [Week 5 and variance]
From MTT to Zoom! My journey from Nl 10 to Nl 1000 [Week 5 and variance]
INDEX
Decided to make a small index so it would be easier to navigate in the future. Every first week of the month will contain the goals for the month. 1 page = 1 week I have collected the whole blog in one post, so you can scroll trough one document. You will find the page numbers above "the imaginary pages." Enjoy the read

Page 1-4 November 2019 (Page 4 summary of month)
Page 5 - December 2019

Page 6 - February 2020

.

.

HEY GUYS, AND WELCOME TO MY JOURNEY!*

My name is Nick, and I am currently living in Norway. I have been playing poker on and off since 2015, but it's the last year where I really dedicated my life towards the game. Until now, I have been studying MTT's - mostly trough RYE, but made the shift to cashgame last monday 04/11/2019. I been studying poker at RIO since last week, and are very happy with the content so far. I will post every monday, and I will try to post some hands for discussion as well - because the main goal of it all - is to become the best I can be!

Why did I switch?*
In poker as you all know, its very important to have as much A-game as possible. In MTT I can get really tired in the end of sessions, which has affected my win rate the last months. In zoom poker, I am able to take breaks when needed, which has been a huge relief. So I think this was the right choice for me.

How will I achieve my dreams?*
Every month I will set a goal - including hands, win rate, hours of study and so forth. I will also be working out 3 days +

Tools*
Journal/Calender - Piosolver - RIO - RYE - Brm - PT4 - Power Equilab - Starshelper

I'm the person who needs to visualize - to succeed. I have a bought a large calendar which I fill in all my daily goals, so I never can slack of my workload. The HUGE benefits of zoom - is that you get a large sample size, and have more time to study, as MTT takes more time pr session. I would like to get a better understanding of GTO, and I am 100% committed to all the work necessary to achieve my goals.

See the calendar and ladder here!!

.
.

Page 1

.

FIRST MONTH

Hands: 40k minimum
Winrate: 6bb/100
Study: 30hrs minimum
Session: 16+

I have calculated that I need around 15$ average pr session divided on 2.5k hands. I think for next month I will try to get 50-60k hands. but I want to prioritize studying as much as playing.

WEEK 1 - (04/11-10/11/2019)

.

MONDAY

Trained before session - check

Monday started okey, but I had issues with stacking way to wide preflop. Changing from playing 40-80bb effective to 100bb was definitely a challenge in the start. The first day was more to get a feel of the player pool, and what kind of challenges I would meet frequently. My first notes were; Players are passive preflop without premium hands - players are passive on all streets - players are over aggressive with draws and made hands. I have noticed that people heavily overplay flush and straight draws - where its definitely money to be made.

TUESDAY

Trained before session - check

Ran PIO sims on SB vs Bu 100bb effective. Since Zoom has some very dynamic 3b spots - especially with the non rake rule of winning preflop.So this was my primary goal with the solver this week. The second day didn't changed that much, and I didn't correct my mistakes, and fell into the same traps. My mental game have been great- so recovery of loss rate has been good so far.

WEDNESDAY

Trained before session - check

Since I had a lot of mistakes in both sessions, I thought it was time for a serious study session! I studied all hands lost over 15bb and wrote a in-depth analysis of all of them. Did not want to use PIO in these scenarios - because I wanted to see how well I could adapt to the situations by my self. I don't think playing heavy gto based is the best in NL 10, since people or more polarized for bluffs and value - so they don't rely on balancing enough. So my work in PIO is for understanding the optimal strategies - but in this case its was more about me punting.

After the study I grinded 2.5k hands with a winrate of 19.76bb/100 - so a massive bump from the two last sessions. Had of course a lot of leaks still, but were able to adapt more smoothly.

THURSDAY

Day off from training

Today I was feeling more confident in my game, but just ran into coolers left and right. Sets vs FD and so on. I was down 4 BI's and then I recovered my loss. Then 200 hands later I am down 3 BI's, so I the whole session ended in 150bb -. This session had of course some unnecessary plays, but overall I am happy with the way I handled my mental game.

FRIDAY

Day off from training

I did some quick equity calculations and posted some hands to forums for a small adjustment. But this day were more focused to grind. The important thing about learning I think - is to not try to learn everything at once - but to apply what you have learned fastest possible. That way, every "building block" of your game will be rock solid while improving in a steady but not to slow tempo. Session went great, did run somewhat over EV and ended session in 57$+. 38bb/100.

SATURDAY

Trained before session - check.

Ran my first PIO script ever, which I thought was great. Were in a lot of A high boards from SB vs BU last session, so I did a 3hr study on all kind of boards with A high in PIO. Feeling pretty confident the optimal strategy here now. Went on playing and had the most insane and devastating variance ever. I was down 8 BI's within 1000 hands. The hands in them self is better then marginal, but I think I could approach "the player" more then the board in some of the scenarios - even if I had a very strong hand. Exercising great folds is just as important as everything else - to have substantial EV. When all hope was lost, I quit my 4 tables and tried one single table with at NL 25 - mostly in desperation. Punted the stack pretty hard, and should have closed the session way earlier. I will adapt to the situations with a 5BI stop loss in the future.

By this time I was so let down of my playing and my variance, that I just ended the session.

Sunday*

Day off from training

So now that my winrate was -150bb across the week - I thought I might go trough last days session to view how I can get out of hands that basically a call - but facing bets that are to polarized to be bluffs - or at least the bluffs will be in tiny tiny frequency. I think I did come to some good conclusions. So I buttoned up and only focused to recover this week to at least be break even. We ended the session with a 500bb win, and the week resulted in 17.76$ dollar + 2.25bb/100 (-3.75bb/100 from goal).

Summary

With all adaptions, hands, losses and wins - I am actually satisfied. Can I improve? Yes, and I will always strive to be better for every week. The good thing I think, is that I made 17 dollars while gaining HUGE amount of info about the player-pool and tendencies. Which will set me up for success the next weeks/months. I am far behind my goal, but the goal is still alive and far from impossible. It''s important to note that the goal is to become better in poker, and not focusing on short term win and loss.

If you have any suggestions, feedback or you want me to share more or less -please leave a comment. I am doing the blog for my self and for the community. The best way to grow, is to give and get. Happy grinding guys, best of luck! New update is next Monday. I will maybe post some hands for evaluation in the meantime. But the summaries are only once a weak. Might do some video for next week. Hope you enjoy the read. <3

-Nick:

.

.

.

Page 2

.

WEEK 2 - (11/11-17/11/2019)

.
I came into this week pretty motivated for the grind - and felt I had done some good adjustments based on last week sessions. This week went a lot better, and I reached my 6bb/100 goal by the hair. The variance can be tough at zoom, but having the ability to take small breaks when my head is clouded - is very beneficial to me. Getting more and more happy with the move to cash game.

Want to thank the RIO coach - Patrick Sekinger for tremendous material on RIO's site - who have improved my fundamental game by a couple of notches within weeks. I think people are not spending enough time on basics, so my main target has been to get rock-fucking-solid fundamentals - which will be the most profitable in Micro/lower stakes IMO.

I have had some ups and downs, and I think the biggest issue this week was in-game awareness. This weeks focus will be awareness and BB vs BU 3b pots - where I definitely are very uncomfortable and need to make huge adjustments. I will also go trough the position filters in PT4 to see what other areas I struggle the most. Last week I did about 3 hours study a day on avg - and I will try to keep the same flow this week.

I also have an additional goal to loose weight and workout - which are going great! Down 7 kilos :D

.
LOL! Didnt see the picture insert last week, will include in post from now :)
So lets get started with the days! :D
MONDAY
Trained after session - check
Since I was in recovery mode the previous sunday, and my training partner was arriving late - I thought I would just go straight to grinding. I played 2.5k hands and ended in -1.71$ profit, so was fairly break even. I was down almost 4 buy-ins within 1000 hands, and had a rough start on the week. Looking back on my tilt problems for 6 months ago - I find my mental state to be in a very different place - BUT I still find the urge that I want to complain when I am running bad. I don't like this about myself and would like to have the "bite down on the mouthpiece for the championship rounds mentality" - for all you MMA fans out there who gets this. Still, I have had the ability too turn bad sessions into fairly break even - which is very important to. Still doing some of the previous mistakes, but are making mental notes. But sometimes you have to fall a 100 fucking times to see the hole in front of you - but I am staying positive.
Hand example from session to illustrate my flaws.
Have a tendency to value-town my self heavily OOP - but I am aware of the issue and will correct this. If I am honest with myself - I get cognitive shutdowns when I am not confident in the situations. This can only be resolved with repetition - which I am willing to do! I don't see myself as a great poker player yet, but I see myself as a very hard worker - so eventually I will succeed to!
.
TUESDAY
Played squash and trained before session - check
To be honest I didn't recognize that my BB 3b pots++ was one of my biggest leaks - so I studied multiway pots - since there was some huge flaws there the previous week. Going trough the sessions now, I see I did another huge punt from the BB which basically cost me the entire session winnings. This is because of in-game awareness mostly. I don't pay attention to the sizing, and put my self in a really bad spot - especially without good blockers. But I am happy to acknowledge this and move forward. On the other hand the MW spots where easier to navigate this day. So some progress was made.
WEDNESDAY
Day off from training
WOHOO! Up fucking 3 buy-in, and I can feel the happy motions we all get from poker. Played a very good session this day except one big mistake. Finally starting to get to know the pool and did great adjustments. Did loose quite a lot to coolers, but they come both way usually. Its usually more fair in the long run - then I would like to admit. Either way - fucking stoked about a 3bi session win!
My biggest lost this day was a huge learning experience. I stacked off way to wide, and had a long run trough of the hand
.
MEMO FROM HAND ANALYSIS
.
BB vs SB 4b pot 150bb eff, As-Kc
Villain is a reg with relative tight stats, based on the info we have. 3b stat isn't to high, but 4b is extremly high - which in hindsight I would think is very polarized to being a aggressive nit. So villain goes big with all value hands. From the stats - Villain would have around 5% hands in his 4b range. JJ+/ AQs+/A5s - 50%;AQo/AJS - This is the range I gave villain.
Qc - Tc - Kh - 56bb pot
Villain c-bets OOP with a 50% potsize. I am just way to sticky and cant find the fold button. If we evaluate the villains range, we cant find any bluffs to begin with. I ran it trough the solver as well to double check the results.
But I think I will learn by doing the math myself, so we just do it the hard way. If we say villain bets AA/QQ/TT/AK/AJ on this board - then we would go break even 1/5 of the time, while we loose 28bb 4/5 times. -28x4 = -112bb. This means that when we make the call with AKo on this board vs a strong 4b range, we are making - 112bb for every 5th decision - which will result in a whopping -2240bb loss over 100 hands
I am still looking positive at the situation and think this is a educational process. AGAIN REMEMBER TO VISUALIZE THE RANGES
.
THURSDAY
Trained before session - check
Pretty crazy session. Not to much to go trough for Thursday. Lost 200bb with house vs house and K high flush vs A high flush. So that was just coolers. Ended session in -25bb. Most of the others hand where non-showdown or small pots. Been having better success with preflop after posting some hands to the RIO forum and study - thanks for all help guys.
.
FRIDAY
Train before session - check
Friday I put as an optional grind for my calendar, but I was feeling very good this day - so I opted to play. Wanted to play some counter-strike as well, so I played around 1.7k hands. And GOOD was that! Made a 4BI win, and played the best zoom game by far since we started on this journey. Some speculative hands that I could have folded, but nothing major this day. No very big losses either. Some days are just combined of running good and playing well - and this was definitely one of them. SUPER FUCKING STOKED!
.
SATURDAY
Was feeling a bit tired after the long sessions, so I went to the gym. After the gym I felt a lot better and thought I would put in a small session -which I regret. I was very tired, and lost nearly 2 BI within 700 hands. I just analyzed the situation and closed down the poker. Were hanging out with my girlfriend and ate some nice food and watched season 2 of snowfall. Thank you for letting me pursue my dream and the everlasting support - M <3 :)
.
SUNDAY
The biggest and most important day of the week is Sunday - for me at least. Here we can combine all of the weeks lessons and truly try to maximize our potential and winnings. Started the session with a boom - every card to could go my way did, but all things come to an end. I was up 600bb but lost 3 big hands in a row, and was down to 80. But I was motivated to not let my judgment being clouded by coolers and my own mistakes, and fought trough the storm and ended at 330bb win - which felt fucking great after the huge swings. Have not had time to analyse this session yet, as I am here writing. But I will think it has a lot of good information about my leaks!
.
SUMMARY
..
Feeling more confident in my game and are enjoying playing more then ever. I think making the shift to zoom was a good choice, and I think I become a better player for everyday. The biggest problem now is to unlearn all the shit that is in my system, but we are slowly getting there! In game awareness will be prioritized this week and I will comeback with at least some of the past weeks problems resolved! Thank you for your time reading this! Happy grinding <3
If there should be any interest of doing Q&A - or other video material - I am happy do it if this is something people would like!
-Nick
.
Page 3
.
WEEK 3 (18/11 - 24/11/2019)
After last weeks blog - I had found some pretty big leaks - which I worked hard to plug. Since I am a full time zoom player now, the days have been somewhat going hand in hand. A week for me feels both long and short, and a lot has happened since last Monday. I went on a insane heater, but took a massive hit to my bankroll yesterday - but stayed true to my stoploss regiment at least.
I have noticed that when I am playing my B/C game I am stumbling back to my old ways - which is not good in any sense. Stacking of 100bb with top pairs or weak hands in the relation of relative hand strengths. In addition to this, my OOP play in 3b+ pots are still pretty weak - and I need to have a more default strategy. Never the less - I have been improving and not everything is bad. It's important to recognize both success and failure. My mental game regarding tilt is no issue, but rather the self awareness of when I should stop playing and when I need breaks. Have read both "The Mental Game Of Poker" books - So I have some good bullet points to fix this.
I think in the future I will write the blog a bit more shorter and combining days.I can recognize that I am not important enough - that you need to know exactly what I do at any given time. I were supposed to make some video material - but found out that my room has a lot of echo - so waiting for some soundproofing equipment before I can do this.
Week 3 graph

As I have mentioned earlier - I have been on a exercise and diet plan - which are still going strong. I am strong as a bull these days, which is fun! In general my life is improving in all aspects! Down 9 kilos!!! LFGO!!!!
Monday - Wednesday
We did not start the way we expected, but I were plugging my BB leaks, and were to shave of the -EV in some regard. Sometimes the card doesn't go your way but we started to slowly rebuild and were 5BI+ after 3 days. Were feeling great and played well even though some days were negative in profit. It is important to focus on what's important and not short-term win/loss.
Thursday/Friday
On Thursday I signed up for my morning exercise at my old Muay Thai gym. Slept only one hour before training (6 am) - but opted to go. I love martial arts, and it was great seeing the old gang again. I was very tired but stayed awake so I can try to get into a good sleep routine, and did a session. Even though I was tired, I played great. I did maybe play a bit more passive then usual, but played 2000 hands from Thursday evening and into the first hours of Friday. Won 5BI and felt that my ranges were starting to get rock solid. Happy with the session but no really big situations.
Sunday
Sunday was pretty awkward - I slept good, went to training and did everything right. I don't know what went wrong, but I were tired and I didn't notice before it was to late. I did have to take a break every 1000 hands to make coffee or rest - which is a good indicator. So in the future I will use 1000 hands as an indicator - as 1000 hands is not a problem on regular days. Ended in a 5BI loss, which put me in the wrong direction of moving up in stakes! Are getting closer either way with being + this past week.
This week would be focused on 3B pots OOP - and my mental game! I need to have a better recognition and self awareness about my mental condition. I still have a ton of work to do and are still motivated AF!!!!! Let's get it!
Not the best picture, but who cares! Good luck and happy grinding everyone!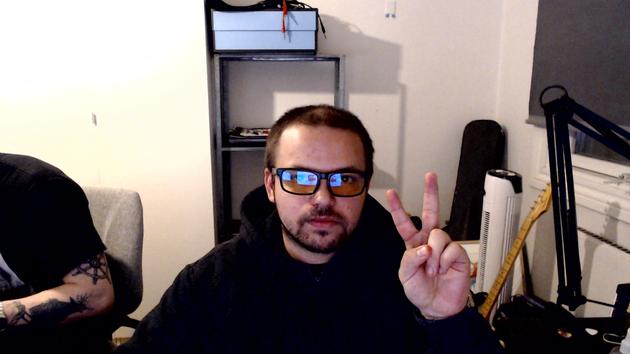 .
page 4
.
WEEK 4 AND MONTHLY SUMMARY
Okey!!!! We almost managed our goal for the first month, and need one more BI to move up in stakes! I have learned so f** much this month and I am suddenly evolving in rapid speed. THIS does not mean I see myself as a complete player - but I have unleashed more of my potential the last month - then I have done the last half year. I been studying nearly 3 hours a day consistently over the whole month, and been plugging leaks as a maniac. Unfortunately this week I did not grind as much as wanted, since I am trying to changing my sleeping habits - but so far I am at the same exact point I started - just with less sleep... But I will continue to try... haha
What I am most proud of this month is my mental game - but I still lack a lot of basic impulse control when it comes to "easy, but hard lay downs." I still trap myself in unprofitable situations and go in the same ditch over and over - but never the less - there are fewer now then it was. I have decided that 2020 will be the year I want to reach my full potential, and I will eliminate everything that doesn't improve my game. I am fucking stoked, and looking forward to this. So the last month will be focused on preparation for the upcoming year.
EVALUATION
I still lack good knowledge of GTO and OOP plays. When to C-bet OOP and to connect the dots in larger pots. I am not working on becoming a GTO machine, but I want to know everything still, so I can be in control of the situation if it's gto or not. BB is still pretty shitty and I will focus only on BB the whole month. When January hits, I want to be the best BB player in my pool. The strategy I will use is to examine parts of my range at the time. I will run AJs+ in all scenarios, then onward with the rest of the range. I still think my game is evolving, but I still have the tendencies of getting into level wars.
For my mental game - I have just listened to the David Goggins, "Can't Hurt me" - which is a phenomenal audiobook, and have recently bought Modern Poker Theory and Atomic Habits. Still waiting on The 5 Minute Journal to arrive, but I am in the works of making a terminator like mindset :D Have continued with my training regiment, and have lost around 6-7 kilos since we started this journey! I also see improvement in study and playing after changing my diet. Will recommend all grinders out there to take your diet a bit serious, but I know it's not easy. If I could choose, I would eat cookie dough to breakfast and make milkshakes of cheesecakes in my blender.. haha!
Looking forward to this month! I am waiting for some soundproofing material to my room - so will make some video material after this. But now the sound is so shitty here. GLGL guys
-Nick
.
Page 5
.
December 2019 Week 1
Hey guys :), been busy the last days, so haven't had the time to finish my journal for last week. But here I am
So we managed to move up in stakes, but had a terrible run to begin with and lost all of my earnings. The good news is that we are not busto, and are still up from 4th of november!
Firstly, I ran terrible - but - I also had major flaws in my game. After talking with some people, I think my biggest problem was that I over-adjusted. And a combination of running bad and over-adjusting is not good. Either way, I will take this a lesson learned and rather focus on my self. I will also say adapting to loosing more money or every BI was not fun, but hey - it's poker - and the $$ swings will be a lot worse when we are reaching the higher limits.
What have I learned about myself
I learned that I am not were I want to be mentally when experiencing variance. So I will work on my strategies rather then focusing on everything that goes wrong. The positive thing is that I never gave up, and I tried to see what I could have done different, and I have definitely learned a lot from the mistakes.
My goal is still to beat the stakes - which I think I am highly capable of - and fix my BB strategies.I don't want to talk to much about my badruns, since it happens to everyone - and it's not interesting for any of us! With the right mindset, we can achieve everything we want.
Last week was my birthday, so did not play as much as wanted. But we are heading for the 50k hands this month to. I am still in training, and I just found out that I will be running a marathon in September or October - depends on which one we are going for - but we are definitely running! I will be back next week - with a new and improved graph! Wish you all the best!
-Nick
Page 6
.
.
February!!
Hey guys, saw someone asked for an update - and if people asking for an update, I think it's only fair to give one. So starting off on this journey, we are still in the Micros - but I am currently under a staking and coaching program and are working immensely on my leaks and strategies. So for the time being I am not playing any significant volume - as I am working more in the "back end" we could say. I have finally recieved my audio equipment, so I have been wanting to do and update via video instead in the future. As for now I would like for the guys who are following this to be patient, then I would soon start blogging again as soon as I am back grinding in the normal volume.
Study and adapting
Since I landed a staking and coaching deal - which I think is pretty cool - I have been working with the coach to widen my ranges and frequencies. This has somewhat been challenging at times - since we are always in uncomfortable scenarios - but definitly learning and improving more. Still have some of the same leaks - could probably say the leaks are smaller - but more frequent as I am in more difficult spots then before. Always working on improving those, and for now it get's a little better everyday. Had 3 weeks of a downswing - which I think mostly came from beeing uncomfortable, but I did also run a bit under EV here and there - but downswings feel worse when you make "obvious mistakes" again and again. But I am still determined to reach my goal, and we will get there. Thanks for tuning in - I will update soon again :) I think I started out a bit heavy on the blog with every week, but I will try to find something I can maintain.
Sidenote: The training and weight loss is going good. Are still preparing for a marathon in oktober and are getting stronger then ever before! :D