First of all thanks to RIO for letting us do an informative post in this forum! We wanted to consolidate the posts and information into one thread to make it easier for RIO members to address issues and discuss these new functions and improvements.
Game Builder:
You can now edit any poker hand quickly and intuitively or you can build new hands from scratch! No more need for hand histories. So if you want to do some PokerJuice analysis on a hand that you saw here in the forum or in a training video then you can use Game Builder to create the scenario.
This means that live players have access to do thorough PokerJuice analysis and it means that those of you that want to take an existing analysis even further by asking a lot of "what if" questions, can now use Game Builder to tweak the spot and see how the result is affected.
For hands created with Run It Once converter, you can copy/paste the forum URL and paste it in PokerJuice to get the HH imported.
Simulator:
We also added an equity simulator to PokerJuice 2.0 so you can now run your equity simulations inside PokerJuice with an extra few nice features. You can randomize hands and flops. We provided quick access to the PokerJuice ranges and a nice visual hand selector. You can even save all your ranges and simulations.
Peel & Stack-Off:
We made the old 4bet module into a more generic and versatile module. With this module we can be informed whether we can get the money in now or we want to wait until the next street and dodge a few cards.
Extended Range Distribution:
As requested by many, for instance Phil in this video almost 1 year ago, we expanded and reworked range distribution to make it even more flexible and powerful. We now have 8 sub ranges available. All supporting the PokerJuice Syntax. Each sub range can be enabled/disabled at will. Card removal effects are optional.
SHOVE with Perceived Range:
We split the existing SHOVE module into two sub parts. We can now shove vs. a stack-off range or with a perceived range.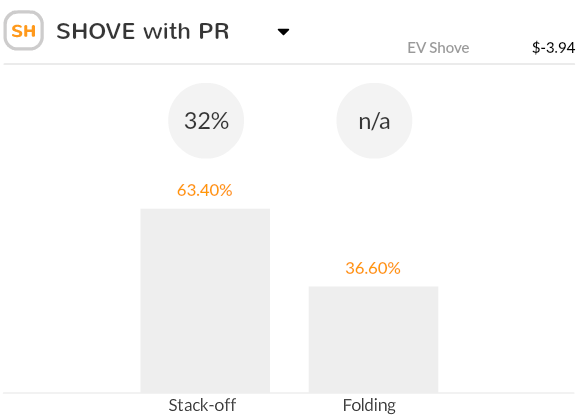 Equity Graph:
We moved the Equity Graph into a separate popup window and added a bunch of features. Now PokerJuicers are able to sort by rank, suit and equity. We also added suit colors and make it more user friendly.
If you have any PokerJuice related questions or comments you are very welcome to post it here in this thread and we will make sure to get back with a reply with a short notice.
Cheers
Nikolaj