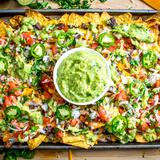 This might be obvious, but I think regardless of what you do, the most important thing is that you accept the fact that you're in a shitty situation, allow yourself to feel bad about and to take control over the things that are in your control. You could do that by pushing through and sometimes that can be a good thing, but you can also do that by sittng down the time you we're supposed to and grinding study material that gets you enthousiastic about the game.
I'm not saying: don't ever force yourself to play. In fact, pushing yourself a little can do very little harm. I do see a tendency though where players aggressively try to 'grind through it', sub-consciously thinking 'if I play more hours, more hands or more tables, I'll get through it faster.' Basically they try to take control over the situation by trying to control the thing they don't have control over (how long it takes). So they'll still be frustrated, as they just want this stretch of bad luck to be over with already, and they pump up the volume to play through it asap, causing them to enter a downward spiral where it takes a hard reset (usually a break of some sorts) or a steak of good luck to get out of.
Obviously everyone is different. You might cope in the exact opposite way where you'll just try to stop the hurt you're feeling by not playing at all. Either way it's not the solution.
A way more healthier approach is to acknowledge that, hey, you're running like shit and running like shit feels horrible, but that's ok. You're allowed to feel bad when things are not going your way. Just make sure you sit down, study, play, do whatever you feel like doing, as long as you take control over the things you have control over, instead of trying to control the things you don't. And if you do just that it's just a matter of time before the downswing ends and as a bonus you'll be a better player then you are today, increasing you EV at the tables.
I might be going on a bit of a rant here, but it makes me think of something similar that I've been through. One day I sat on my bed and I just didn't feel right. Out of nowhere I got a blurry vision, got super dizzy and heart started to go in overdrive mode. I immediately rushed to the emergency room, fully convinced I was having a heart attack. After a quick check-up from the nurse it turned out I was just having a panick attack. A couple hours later I was back home with medication that had calmed me down a bit, still kinda confused over what had happened.
Over the weeks that followed these attacks kept coming back. It came to a point where I couldn't take the bus anymore because I'd immediately feel like I needed to get out. It was just horrible. I was constantly stressed and I felt like I had gone from being a regular dude to a full-blown crazy person. Every time when I'd feel the stress levels rise I thought: 'oh god no, not now,' and I'd start pacing around, trying to make sure my actions we're more in line with my hear that went in full overdrive mode. I'd try to meditate, do breathing excercises, take walks, eat healtier, find distractions, you name it. But in the end they kept coming back.
Then there was this moment where, again, my heart started blasting like crazy out of nowhere and I started hyperventilating, but instead of trying to fight it by walking, breathing, talking to someone or trying to distracted, I surrendered. I just said to myself: 'you're having a panick attack, it's fine. It feels bad, but you'll be fine. Just calmly breath through it and accept it.' Immediately all the tension I felt flowed away. By accepting I didn't have any control, I gained control.
That was the last panick attack I've had. It's three years later now and I still have regular moments where I get that same feeling (often when I can't physically get out of the situation, for instance when I'm driving), but just surrendering to the fact that it might be a full blown panick attack that might feels horrible, makes it feel a lot less horrible.
I think it's the same thing with variance. If you're going to do things to try to prevent it from making you feel bad, it'll usually only hurt more. If you surrender to the fact that it's outside of your control, breath throught it and instead try to actively take control over the situation (by playing, studying, whatever), it'll hurt a lot less.
Aug. 22, 2021 | 12:57 a.m.