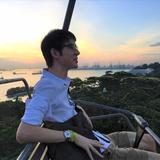 Qing Yang looks at playing 3 bets when out of position in this installment and examines all aspects of the scenario with an emphasis on building a successful C-betting strategy.
Sept. 13, 2020 | 5 p.m.
In his Elite debut, Qing Yang provides a background for those that may not be familiar with his videos before exploring the topic of being way ahead or way behind.
May 12, 2020 | 5 p.m.
Qing Yang explores the topic of indifference touching on minimum defense frequency, a polarizing toy game, whether we want to make our opponents indifferent, and multi-street equilibrium.
March 30, 2020 | 5 p.m.
Qing Yang breaks out the solver in an attempt to breakdown these difficult but common situations in multiway pots.
Feb. 3, 2020 | 5 p.m.
Qing Yang takes a look at a recently played hand and uses it to illustrate the concept of min betting and how to add this tricky play into your arsenal.
Dec. 11, 2019 | 5 p.m.
If you've been in poker for a while, you're probably familiar with the concept of Shania. If you're not, have no fear - Qing Yang will break it down in this video sharing his thoughts on the value of hands and how they receive that value.
Nov. 14, 2019 | 5 p.m.
Good friends and Run It Once coaches Qing Yang and Darren Wee enter into a heads up battle and this video features Qing's perspective of the match. You can check out Darren's perspective of the match here: Darren's Perspective
Oct. 2, 2019 | 5 p.m.
Using Simple Preflop, Qing Yang investigates the trend of 3betting huge from the big blind, and the theoretical basis behind it. He then addresses the classic question of whether to 3bet linear or polarised.
Aug. 8, 2019 | 5 p.m.
What does ice skating have to do with sizing our bets? Qing Yang first explains how a geometric plan maximizes EV when ranges are perfectly polarized, then looks at a few situations where PIO sizes its bets more unevenly.
June 6, 2019 | 5 p.m.
Qing Yang shares his experience with applying GTO in live games and how knowing a bit of theory can sometimes be worse than knowing none at all.
May 16, 2019 | 5 p.m.
Qing Yang examines the concept of equity distribution first defining the concept and then jumping into PIO simulations to illustrate key concepts.
April 22, 2019 | 5 p.m.
Qing Yang makes his Run It Once debut with a video focused on stack to pot ratio. The Singapore-based poker pro who gets most of his volume in the Chinese app games and live games, provides a brief introduction to his poker background, software fluency, and plans for future videos before diving into today's topic.
April 4, 2019 | 5 p.m.