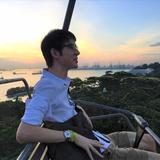 Using Simple Preflop, Qing Yang investigates the trend of 3betting huge from the big blind, and the theoretical basis behind it. He then addresses the classic question of whether to 3bet linear or polarised.
Aug. 8, 2019 | 5 p.m.
What does ice skating have to do with sizing our bets? Qing Yang first explains how a geometric plan maximizes EV when ranges are perfectly polarized, then looks at a few situations where PIO sizes its bets more unevenly.
June 6, 2019 | 5 p.m.
Qing Yang shares his experience with applying GTO in live games and how knowing a bit of theory can sometimes be worse than knowing none at all.
May 16, 2019 | 5 p.m.
Qing Yang examines the concept of equity distribution first defining the concept and then jumping into PIO simulations to illustrate key concepts.
April 22, 2019 | 5 p.m.
Qing Yang makes his Run It Once debut with a video focused on stack to pot ratio. The Singapore-based poker pro who gets most of his volume in the Chinese app games and live games, provides a brief introduction to his poker background, software fluency, and plans for future videos before diving into today's topic.
April 4, 2019 | 5 p.m.