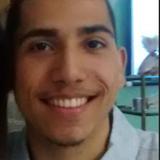 Saulo Ribeiro
2601 points
The hero's EV is down 6bb per 100, even though he is still playing the
GTO strategy. The hero's EV decreases by more than the buttons EV,
even though the button is the player making a mistake! If you imagine
that every player plays GTO in all positions, except for the one fishy
player who is too tight on the button, what happens to the hero's
winrate? He wins 19bb / 100 on the button, loses 17bb / 100 on the
small blind, and loses 8bb / 100 on the big blind, for an average of
-2bb / 100. Playing GTO poker in 3+ way scenarios can lose money if there is a fishy player at the table who is not playing GTO.
This thought process also doesn't seem to consider that when the BTN shoves a tigher range than he should, even tho we make less money by calling with the same GTO range from before, we face the opportunity to shove vs the BB more often, which then should help increase the EV of our overall SB strategy
Feb. 14, 2019 | 4:25 p.m.